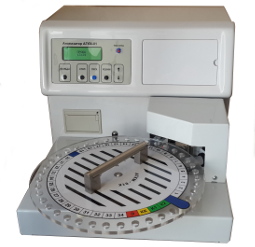 It is device-qualitative, inexpensive, simple and profitable in operation. It is intended for fast and accurate determination of the glucose and lactate concentration in whole blood, plasma or serum. All reagents are manufactured in Russia.
Characteristics:
minimum of starting-up operations;
the messages about necessary actions are displayed as the help;
the manual adjustments are excluded;
the service is reduced to the elementary procedure of the solutions and sensor replacement;
the turntable on 40 positions, including the service positions;
automatic filling system reagent to microtest tubes
non-volatile memory for 8000 last results;
built-in printer;
possibility of measurement of the emergency test;
RS232 serial interface.
all reagents are ready for the use;
the sensors do not require service and easily are substituted;
automatic monitoring of a condition of sensors.

minimal influence of the human factor on the device;
Standby mode (provides trouble-free operation in case of long-term deenergizing).

| | Measuring range |
| --- | --- |
| Glucose | 1 - 30 mmol/l |
| Lactate | 1 - 30 mmol/l |

systematic component of the ratio error less then 5%;
SKO of random component of the ratio error less then 3%;
material of test: whole blood, plasma, serum;
sample volume 20 µl;
160 results per hour;

dimensions and weight: 385х310х500 mm, 14 kg .

low cost of 1 analysis (spare parts and consumable items).
inexpensive consumable items.