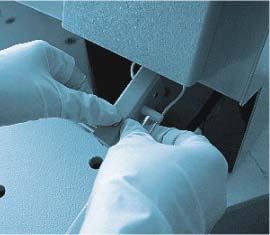 The enterprise "KwertyMed" was established in 1992

The basic kinds of activity of the enterprise is the development, industrial manufacture and service of equipment for medical laboratories.
During the existence the firm has issued and has sold more than 1000 analyzers of all types.
We pride ourselves on providing all our customers with the high quality, reliable , simple in maintenance production and personalized service. Our production corresponds to the requirement of the minimal service, which can be supplied with the personnel of the central regional hospitals. The firm renders service on commissioning, repair during guarantee maintenance and during past-guarantee period, supply spare parts and consumable items, and training of the personnel to application of devices also.
The enterprise have executed development and makes industrial release of the following devices:
The Electrolyte Analyzer AEC-01 is intended for measurement of concentration of ions sodium, potassium and chlorine in whey or plasma of blood. It is fully automated analyzer.
The BloodGas Analyzer EC-60 is intended for fast and accurate determination of pH, pCO2 and pO2 in heparinized whole blood samples. In addition to the measured parameters, this analyzer will also calculate 8 additional parameters. It is supplied in complete with electrodes of firm AVL (series OMNI), which not require service during all service life. The Gas-Blood Analyzers are issued by the enterprise KwertyMed since 1997 and are maintained in many clinics of Russia.
The Glukose and Lactate Analyzer AGKM-01 is intended for fast and accurate determination of the glukose and lactate concentration in whole blood, plasma or serum. It is completed by a sesors of one of the best European manufacturer of biosensor controls . All reagents is manufactured in Russia.
Our production is improved constantly
During all time of existence of the enterprise, our engineers constantly improve a design of our devices, with the purpose to ensure supply trouble-free, with a maximum level of simplicity and convenience in operation, and with low cost of maintenance also.
The partner relations
The enterprise "KwertyMed" aspires to realization of production through a network of the regional partners, which can render operative information and technical support to the end user. We are glad to the new partners always, and we highly appreciate the steady partner relations. We are ready to render the necessary information and technical help, and also to consider any offers on realization of our production in regions and organization of its service support.